Product Name:Polyquaternium-51
Product Code:YNR-PQ51
CAS No.:125275-25-4
INCI Name:Polyquaternium-51
Polyquaternium-51 is a biomimetic moisturizing polymer designed to mimic the structure of phospholipid membrane. It has unique amphiphilic structure and could anchor into the stratum corneum, exhibiting an adaptive moisturizing effect on skin. In the meanwhile, Polyquaternium-51 protects the skin from environmental aggressions: Improving the barrier effect, and reducing the Trans Epidermal Water Loss.Polyquaternium-51 is a biocompatible copolymer that has the same structure as important cell membrane ingredient, phospholipid.It's a good skin moisturizer, leaves a silky, smooth feel on the skin and can help to reduce irritation caused by some not-so-nice ingredients.

Key Techniacl Parameters:
| | |
| --- | --- |
| DETECH ITEM | STANDARD |
| Appearance | Colorless Viscous Liquid |
| Odor | Slightly Characteristic Odor |
| Residue on Drying(%,105℃) | 5.0~7.0 |
| Heavy Metals | ≤10ppm |
| Arsenic | ≤2ppm |
Applications:
Polyquaternium-51 is a skin conditioning ingredient originally developed for the contact lens industry to maintain moisture and counteract dry eye. However, it is now an ingredient used by cosmetic and skin care companies to add moisturizing properties to formulas, while also benefiting from its added film forming properties. Polyquaternium-51 is a "phospholipid copolymer that improves the moisture retention capability of the epidermis, and also serves as a natural barrier against further water loss from the skin, in part by forming a protective film on the epidermis, according to AMC.Polyquaternium-51 is mainly used in creams, serums, wrinkle removal products. Imitation artificial cell membrane cell designed to hyaluronic acid has better moisture absorption,better lock the skin and hair moisture,give more permanent moisture and smooth feel, inhibit skin chapped good effect; bio-affinity material,safe, oldless.
*Conditioning Agents
*Emolients
*Humectants
*Thickeners stabilizers.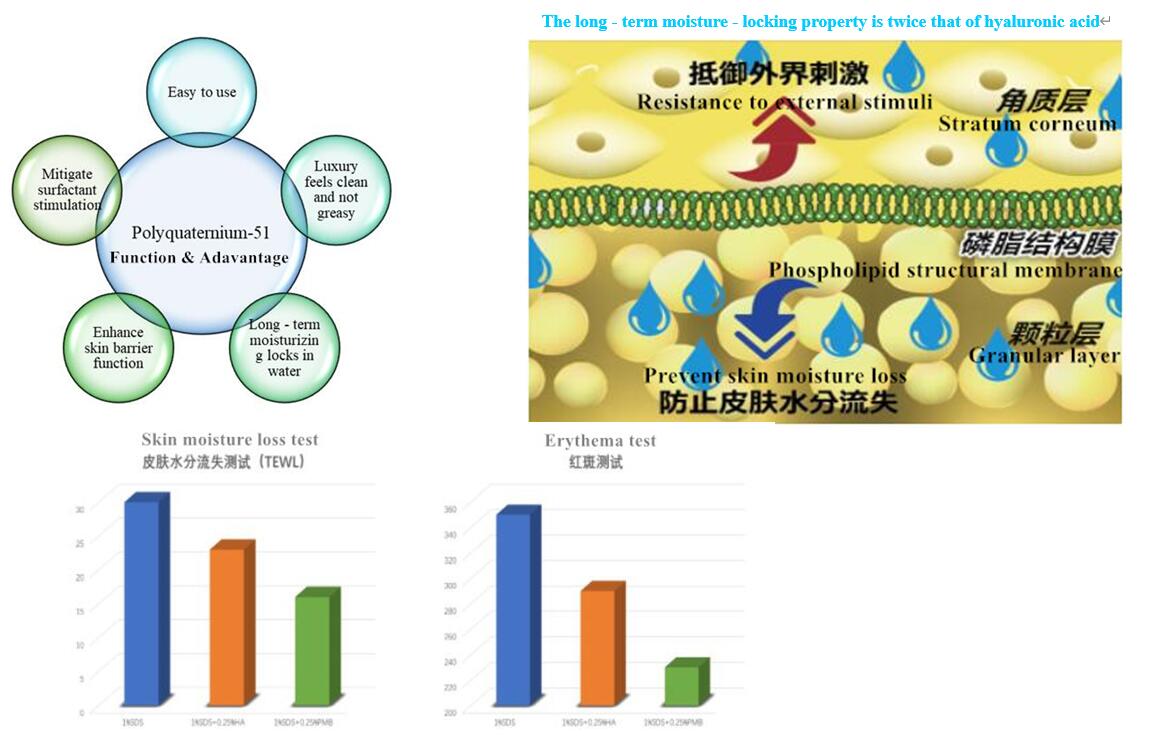 Performance & Functions in Cosmetic Applications
Super moisturizing effect,Long-term adaptive Moisturizing:Polyquaternium-51 performs better than hyaluronic acid by forming a breathable water-blocking film to achieve water-retention and moisturizing effects.
Relieve skin irritation,supperesses irritation from surfactants and peeling agents:Polyquaternium-51 could inhibit the irritation from products and form a film to shield irritated substances outside. Cationization could also show bacteriostatic effect.
Anti-static ,Anti-pollution: Polyquaternium-51 could shield adsorption of the PM2.5 by the skin under polluted environment. The stable charge layer could conduct static electricity.